Professional Cabling Infrastructure for Voice and Data Systems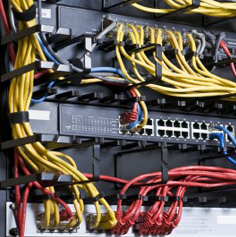 As the leading cabling company in Sacramento and San Francisco, J Allan Communications is proud to provide premium quality service to businesses in both cities and their surrounding towns. Whether your cabling or wiring infrastructure is failing to perform as expected, or the telecommunications network of your business repeatedly experiences significant downtime, we have a network cabling solution that will meet the unique needs of your company.
The reliability and productivity of your network cabling can dramatically impact the bottom line of your business. When you rely on a professional cabling company like J Allan Communications for your network cabling installation needs, you can take comfort knowing that the cabling infrastructure of your business will be designed and built for maximum uptime and optimal performance.
We know how important your network cabling infrastructure is to ensuring the success of day-to-day operation for your business. That's why we are committed to providing you with a solution that both meets your current needs, and also grows with your business.
With more than 15 years of experience servicing big and small businesses from Sacramento to San Francisco, we here at J Allan Communications take pride in being the most trusted cabling company in the region. From your initial consultation to the installation or repair of your business's cabling infrastructure, our professional support staff and technicians will provide you with the personalized care you deserve to make sure that get the job done right.
Cabling Installation
Are you thinking about installing a new cabling infrastructure in your Sacramento office building or warehouse? We'll work with you to determine what type of cabling best suits your needs, and then perform a flawless and efficient cabling installation.
Cabling System Repair
Do you already have a cabling system in place, but its performance has been lackluster at best? Here at J Allan Communications, we can provide the repairs you need to get your business back up and running.
With our cutting edge equipment and the expertise of our certified technicians, we will adequately troubleshoot and accurately diagnose any issue that is hindering the performance of your network cabling system. When you rely on us as the cabling company for your repair needs, we'll give you a detailed yet easy-to-understand explanation of the issue, as well as what kind of repair or maintenance jobs are available to resolve it.
For more info on our service areas from Sacramento to San Francisco, CA, kindly visit our Contact Us page or just give us a call.
Find us on Google+